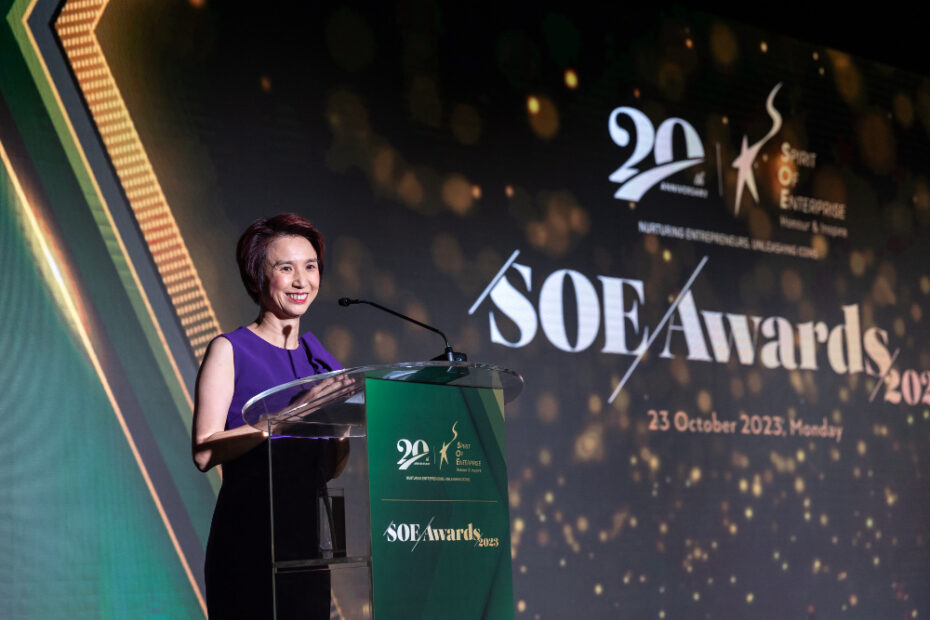 Spirit of Enterprise Awards, or SOE Awards for short, is a one-of-a-kind event that highlights budding entrepreneurs and up-and-coming achievers in the world of business. The awards are not simply about gaining recognition. The intiatives alongside the SOE's includes various opportunities for personal growth alongside mentorships allowing young entrepreneurs to gain valuable insights into the challenges and opportunities in the world of business. In line with the 20th anniversary of SOE's Awards 2023 Gala Dinner, LUXUO sits down with the official partners behind this event to see what it takes to become an honouree, the catagories available alongside how they aim to cultivate and nurture the entrepreneurial spirit among students in Singapore.
Spirit of Enterprise (SOE) was established in 2003, how has it fulfilled its mission along the way? 
Since our inception in 2003, Spirit of Enterprise (SOE) has embarked on a remarkable journey, passionately fulfilling our mission to honour entrepreneurs and inspire youth. Over the years, we've dedicated ourselves to celebrating the unsung heroes of entrepreneurship – local self-reliant visionaries steering small and medium-sized businesses towards success. 
Through two decades of commitment, SOE has not just recognised entrepreneurs; we have also woven a tapestry of inspiration for the next generation. Some of our key programmes, such as the Student Entrepreneur Programme (SEP) and Student Interviewer Programme (SIP), go beyond textbooks by offering students hands-on experiences and invaluable encounters with seasoned entrepreneurs. 
Our annual SOE Awards event celebrates the achievements of deserving local entrepreneurs while casting a spotlight on diverse categories like global entrepreneurship, sustainability and social contribution. Each award category is a testament to the indomitable spirit that fuels our entrepreneurial landscape. It's not just about the success stories; it's about the relentless pursuit of dreams and resilience in the face of challenges. 
Our forum series and networking events serve as melting pots of ideas and experiences, bringing together entrepreneurs from different industries and backgrounds while also featuring talks and panel discussions by industry professionals on topics of relevance and interest to entrepreneurs. The SOE Book, which is published annually, preserves the narratives of our Award Honourees, immortalising their journeys to serve as guideposts for those navigating the entrepreneurial path. 
The SOE Built To Grow Training Series is a brand-new initiative introduced this year with content specially curated for SME business owners and C-suite executives, where they can learn how to grow their company to be the next Singapore icon and redefine what it means to be a great leader.
As we celebrate our 20th anniversary in 2023, the SOE journey continues to unfold. SOE's mission "to honour and inspire" is not just a statement – it's a living, breathing commitment to a Singapore where entrepreneurship is not just a career choice but a way of life. In our efforts to honour deserving entrepreneurs, it is our hope that we have ignited a flame of inspiration that continues to illuminate the path for generations to come.
How are the SOE Awards promoted amongst the young generation of Singapore business entrepreneur and innovators?
Inspiring the next generation of Singaporean business leaders is at the heart of our mission at Spirit of Enterprise (SOE). We understand the power of recognition and the impact it can have on young minds, and so, promoting the SOE Awards among the youth is a dynamic process. 
Our platforms are not just about showcasing the awards but also about sharing stories – real narratives of triumph, challenges, and innovation. Through engaging content, we paint a vivid picture of what it means to be a part of the SOE community. Collaborations with educational institutions play a pivotal role. 
The Student Entrepreneur Programme (SEP) and the Student Interviewer Programme (SIP) create bridges between classrooms and boardrooms. Students are not just spectators; they actively participate, gaining first-hand experience and insight into the world of entrepreneurship. These programmes act as catalysts, sparking curiosity and passion among the young minds we aim to inspire. 
Moreover, we understand that mentorship is a powerful tool for growth. Entrepreneurs who have been honoured with SOE Awards are given the opportunity to become mentors, sharing their journeys, challenges, and victories with aspiring young innovators. This personal connection transforms the abstract idea of entrepreneurship into a tangible and achievable goal. 
In essence, we do not just promote the SOE Awards; we invite the youth to become a part of a thriving entrepreneurial community. We make entrepreneurship relatable by breaking down barriers, showcasing real stories, and providing hands-on experiences. Our goal is to ignite a spark that propels the next generation towards innovative, purpose-driven entrepreneurship.
What are the SOE Awards categories?
The Spirit of Enterprise (SOE) Awards spans a range of entrepreneurial prowess, with each category crafted to spotlight distinctive facets of innovation and dedication. 
Here are the categories of awards given out this year: 
SOE- CLA Global TS Entrepreneurship Award 2023: This pinnacle award is sponsored by SOE's Main Partner, CLA Global TS Holdings, and is given out each year to one past Award Honouree who has demonstrated significant growth and elevated his/her enterprise to new heights since originally winning the SOE Award. It recognises entrepreneurs who have left an indelible mark on the local or global stage, epitomising the spirit of entrepreneurship. 
SOE-Neo Start-up Award 2023: An award category sponsored by SOE's Growth Partner, Neo Group Limited, and presented to entrepreneurs from start-up enterprises that have been in operation for less than five years at the point of nomination. This award honours visionaries in the start-up landscape, celebrating the courage and ingenuity of those forging new paths. 
SOE-EATZ Sustainability Award 2023: A fairly new award category that was first introduced last year (sponsored by a different company then), and is this year sponsored by SOE's Sustainability Partner, Eatz Group Pte Ltd. This award is conferred on one deserving Honouree from among the year's winners, and only announced during the SOE Awards Gala. The introduction of this award is a reminder of the responsibilities that companies bear towards our environment and also a reward for companies that have started the good work towards addressing our sustainability issues.  It highlights entrepreneurs leading the charge in sustainable business practices, fostering a commitment to environmental and social responsibility. 
SOE- Dian Xiao Er Social Contributions Award 2023: This award category was first introduced in 2019, and is sponsored by Dian Xiao Er Group, SOE's Corporate Social Responsibility Partner. This award is conferred on one deserving Honouree from among the year's winners, and only announced during the SOE Awards Gala. It recognises businesses that extend beyond profit, making a positive impact on society through social contributions and philanthropy. 
SOE-PropNex Top Honouree of the Year Award 2023: An award category sponsored by SOE's Strategic Partner, PropNex Realty, and is conferred on one deserving Honouree from among the year's winners, and only announced during the SOE Awards Gala. This award represents the pinnacle of recognition, honouring an individual whose entrepreneurial journey epitomises exceptional leadership, resilience, and success, and who stands out from among the Honourees of that year.
SOE-Marunda Best Student Interviewer Award 2023: This is an award category that acknowledges the outstanding contributions of student interviewers who have exceeded expectations in terms of commitment and quality of work. It celebrates the accomplishments of students displaying exceptional entrepreneurial spirit and achievements.
SOE-Marunda Student Achievement Award 2023: An award category that recognises the efforts of students who go the extra mile to interview multiple nominees, while ensuring quality of their submissions is not compromised.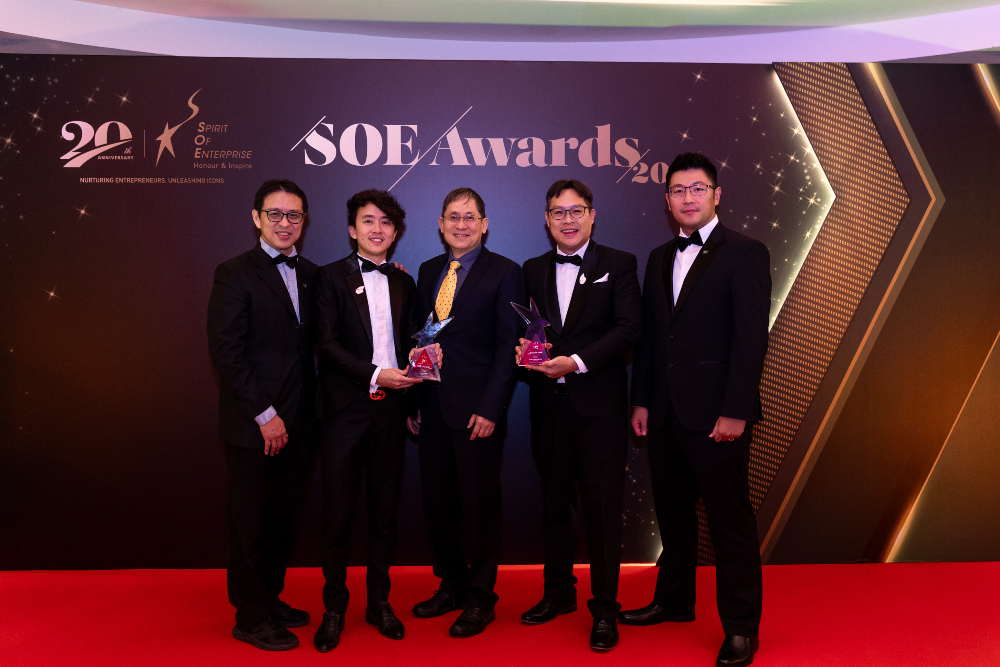 How many Awards will be handed out this October 2023?
55 entrepreneurs were honoured for their achievements at the SOE Awards 2023, which took place on 23 October 2023 at The Ritz-Carlton, Millenia Singapore. Breakdown of number of winners as follows:
SOE-CLA Global TS Entrepreneurship Award 2023 – One Honouree
SOE Award 2023 – 28 Honourees from 25 established companies 
SOE-Neo Start-up Award 2023 – 26 Honourees from 25 start-ups
SOE-EATZ Sustainability Award 2023 – One winner selected from among the 54 Honourees from the established and start-up categories
SOE-Dian Xiao Er Social Contributions Award 2023 – One winner selected from among the 54 Honourees from the established and start-up categories
SOE-PropNex Top Honouree of the Year Award 2023 – One winner selected from among the 28 Honourees from the established category (for this year, we presented this award to a pair of Co-honourees from the same company)
There were also five student winners under the SOE-Marunda Best Student Interviewer Award category and four students winners who received the SOE-Marunda Student Achievement Award.
Who sits on the panel of judges?
The panel of judges for the Spirit of Enterprise (SOE) Awards is a distinguished group of accomplished professionals, industry experts, and thought leaders. These individuals also represent the SOE Board of Governors and they bring a wealth of experience and knowledge to the table, ensuring a fair and rigorous evaluation of all nominees. 
While the specific names of the judges may vary from year to year, rest assured that each judge is carefully selected for their expertise in entrepreneurship, business acumen, and commitment to fostering a thriving entrepreneurial ecosystem in Singapore. The diversity of perspectives ensures that the evaluation process is comprehensive and reflective of the dynamic nature of the business landscape. The integrity and credibility of the judging panel are paramount in upholding the standards of excellence associated with the SOE Awards.
How is the judging conducted, what are the key qualifying criteria?
The judging process for the Spirit of Enterprise (SOE) Awards is meticulous and thorough, designed to ensure fairness, transparency, and the recognition of outstanding entrepreneurial achievements. The key qualifying criteria may vary slightly across different award categories, but the overall process follows a rigorous evaluation framework. Here are some general principles: 
Business Excellence: Judges assess the overall excellence of the nominee's business, considering factors such as growth, innovation, and market impact. 
Leadership and Vision: Evaluation includes an examination of the nominee's leadership qualities, vision, and strategic direction for the business. 
Impact on the Industry: The extent to which the nominee has made a positive impact on their industry or sector is a crucial criterion. 
Entrepreneurial Spirit: The core entrepreneurial spirit, including resilience, adaptability, and a willingness to take calculated risks, is a key criterion. 
Innovation and Creativity: Recognition is given to those who have demonstrated innovation and creativity in their business approach and solutions. 
Sustainability Practices: For certain categories, judges may focus on sustainability practices, evaluating environmental and social responsibility. 
Social Contribution: Judges assess the nominee's contributions to society, particularly in categories that emphasise social impact and community involvement. 
The judging process typically involves a combination of document reviews, interviews, and presentations by the nominees. Nominees are expected to provide evidence and insights into their achievements, strategies, and the impact they have had in their respective fields via in-depth interviews conducted by assigned student interviewers.
How important is the sustainability factor within the SOE Awards criteria?
Sustainability is a significant and increasingly vital factor within the criteria of the Spirit of Enterprise (SOE) Awards. Recognising the global shift towards more responsible business practices, the inclusion of the sustainability criteria reflects SOE's commitment to acknowledging and promoting businesses that prioritise environmental and social considerations.
The importance of sustainability within the SOE Awards criteria can be highlighted in several ways: 
Environmental Impact: Businesses that demonstrate a commitment to reducing their environmental footprint, adopting eco-friendly practices, and contributing to environmental conservation are recognised. 
Long-Term Viability: Sustainability is often seen as a key indicator of a business' long-term viability. Companies that integrate sustainable practices into their core strategies are better positioned for resilience and success over time. 
Innovation and Efficiency: Sustainable practices often go hand-in-hand with innovation and efficiency. Businesses that find creative and efficient ways to operate sustainably are acknowledged for their forward-thinking approaches.  
By incorporating sustainability into the Awards nomination criteria, the SOE Awards contribute to the broader narrative of responsible and purpose-driven entrepreneurship. It sends a powerful message that businesses not only need to be successful economically but also play a positive role in addressing environmental and social challenges.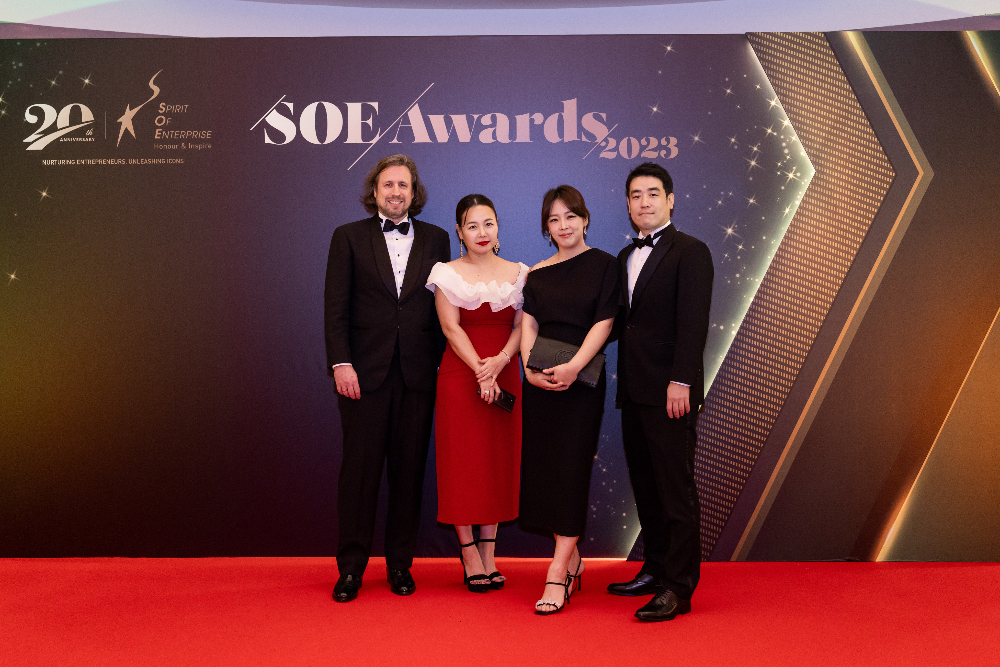 Tell us more about the SOE's Student Entrepreneur Programme (SEP)?
The Spirit of Enterprise's (SOE) Student Entrepreneur Programme (SEP) is a dynamic initiative designed to cultivate and nurture the entrepreneurial spirit among students in Singapore. This programme goes beyond traditional classroom learning, offering hands-on experiences and practical insights into the world of entrepreneurship via funded workshops, career talks and Learning Journey sessions. Here are some key aspects of the SOE Student Entrepreneur Programme: 
Entrepreneurship in Action: Learning Journeys conducted under SEP provide students with the opportunity to observe day-to-day roles and tasks in a business setting, where they get to engage in interactive activities and learn about the principles of entrepreneurship from business owners.
Interaction with Entrepreneurs: A distinctive feature of SEP is the direct interaction between students and seasoned entrepreneurs via career talks. Students have the chance to engage with successful business leaders, learning from their experiences, and gaining valuable insights into the challenges and opportunities in the business world. 
Funded Workshops: Workshops are a core component of SEP, focusing on practical skills and knowledge that are essential for aspiring entrepreneurs. From ideation to business planning, these workshops provide students with a foundation and understanding of the entrepreneurial journey. 
Inspiration and Motivation: By exposing students to real-world success stories, SEP aims to inspire and motivate them to pursue their entrepreneurial dreams. Learning from the journeys of accomplished entrepreneurs helps students envision their own paths to success. 
Fostering Innovation: SEP workshops are conducted in a manner that encourages students to think creatively, identify opportunities, and develop innovative solutions to real-world problems. This emphasis on innovation aligns with the dynamic and ever-changing nature of entrepreneurship. 
Entrepreneurial Mindset Development: One of the key focus of SEP is guiding students towards developing an entrepreneurial mindset. This mindset involves traits such as resilience, adaptability, and a willingness to take calculated risks – essential qualities for success in the entrepreneurial world. 
In essence, the SOE Student Entrepreneur Programme is a holistic experience that aims to equip students with the skills, knowledge, and mindset needed to thrive in the entrepreneurial landscape, and hopefully motivate them towards embarking on their own entrepreneurial journey in future.
Who will be attending the SOE Gala Dinner 2023?
The SOE Awards 2023 Ceremony and Gala Dinner was graced by a distinguished assembly, including Guest-of-Honour Ms Low Yen Ling, Minister of State, Ministry of Trade and Industry, and Culture, Community and Youth, SOE Board Members (past and present), Award Honourees, student interviewer winners, SOE stakeholders and partners, successful entrepreneurs, industry leaders, sponsors, and esteemed guests.
What is planned for SOE across 2024, any novelties?
In the coming years, we are contemplating the introduction of innovative award categories, each designed to encapsulate the dynamism and evolution of entrepreneurship across diverse sectors. These awards will not just recognise achievements but will mirror the forward-thinking spirit that defines the entrepreneurial landscape. 
Our commitment to education remains steadfast. We envision expanding and elevating our educational programmes to reach an even broader audience, engaging more students and aspiring entrepreneurs with insights and knowledge that go beyond the conventional.
The entrepreneurial spirit thrives on challenges, and in the coming year, we anticipate launching initiatives that stimulate creativity and problem-solving within our community. These challenges will not only showcase innovation but also inspire the next generation of entrepreneurs. 
In our pursuit of industry excellence, SOE envisions hosting targeted forums and events, delving deep into specific sectors to provide tailored insights for entrepreneurs. We believe that specialised knowledge is a catalyst for success. 
Mentorship has always been a cornerstone of our mission, and in 2024, we have plans in the pipeline to expand our mentorship efforts. We want to facilitate meaningful connections between experienced entrepreneurs and those taking their first steps, fostering a culture of guidance and support. 
Lastly, we are exploring digital avenues to share stories, insights, and inspiration. A digital publication or podcast series will provide a platform for entrepreneurs to share their journeys, fostering a sense of connection and collective learning.
As we unveil these novelties in 2024 and beyond, our goal remains clear – to celebrate, inspire, and elevate the spirit of enterprise in Singapore, via a journey of innovation, learning and growth.
For more on the latest in business reads, click here