There has been an uprising in the viral videos of men doing stunts with their female partners on motorcycles. We have seen many such episodes in the past and most of them were caught and issued a fine. Here is one more incident from Raipur, which was caught on camera.
The video from the roads of Raipur, Chattisgarh shows a couple on a motorcycle and riding in a very dangerous manner. Both the riders did not have a helmet on them. The video caught on the camera shows the girl sitting on the fuel tank of the motorcycle. Even though the roads are empty in the video, it remains a highly dangerous act.
The video became viral when it was shared on the internet. The police then tracked down the man and issued a fine of Rs 4,000 for not wearing helmet and riding dangerously on the public roads.
First such incident happened in Goa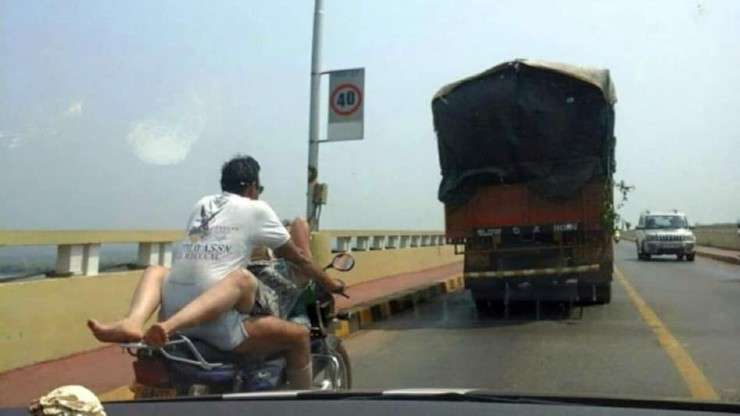 The incident that took place in Goa many years ago, where a couple was riding in a dangerous manner on public roads, was an uncommon occurrence at the time. The Goa Police located the couple and issued them a challan of Rs 1,000 for their reckless behavior.
It is worth mentioning that such incidents have taken place in the country before, despite their unusual nature. In August 2021, a viral video from Bihar captured a similar incident, with a couple engaging in the same peculiar riding style.
In an attempt to gain attention and popularity on social media, many young individuals attempt stunts on cars and motorcycles. However, they fail to realize the fatal and illegal nature of performing such stunts on public roads. These stunts should not be encouraged or performed on open roads as they pose a danger to both the stunt performer and those around them.
Celebrities have done similar things
Tejasswi Prakash, a prominent actress known for her roles in Marathi movies and Hindi television series, was recently spotted engaging in a stunt on a Royal Enfield bike. It appears that they were shooting a scene while performing the stunt. The identity of the man riding the motorcycle remains unknown. Tejasswi sat on the bike and rode for a short distance, specifically on a bridge, although the exact location is uncertain.
Neither of the riders were wearing helmets while executing the stunt. Although the video is not new, it seems that no legal action has been taken against them. It is possible that they obtained permission beforehand to shoot such a scene on public roads.
It is important to note that many young people attempt similar stunts on cars and motorcycles in order to gain attention and fame on social media. However, they often overlook the inherent danger and illegality of performing such stunts on public roads. It is crucial to discourage and prevent these stunts from being carried out on open roads, as they can be fatal and pose a risk not only to the performers but also to those in their vicinity.