RuMa provides a holistic holiday experience with hospitality unlike any other. Intuitive care and appreciation for local cultural heritage is the establishment's central priority for every guest's experience. Located in the heart of Kuala Lumpur's vibrant Golden Triangle and firmly anchored in the rich and colourful heritage of Malaysia, The RuMa weaves the local with the contemporary to create a cultural revival in the dynamic, urban city of Kuala Lumpur. Famed for its expansive interiors, guests are greeted by a dramatic birdcage made from interlaced glazed and non-glazed terracotta that surrounds a handcrafted custom-made bronze water fountain built by craftsmen from Kuala Lumpur. From interior décor to the building's architectural design, every detail tells a story; and within every room and suite, an importance is placed on shining a spotlight on local craft, culture and community. From the central showpiece designed by renowned local designer Bernard Chandran to the Kelarai hand-weaved walls on the sixth floor.
LUXUO speaks to Mr Daniyal Ng, Hotel Manager at The RuMa Hotel and Residences on his career in hospitality, brand expansion and how RuMa authentically embodies Kuala Lumpur's vibrant spirit.  
Could you tell us about your background in hospitality?
I have been in the industry for 23 years, I started my hotel career back in the year 2001 as Assistant Cost Controller and served at various positions with the Hilton, Starwood and Marriott hotels. I have also been in the finance leadership role for seven years. 
With The RuMa journey, I started with the role as the pre-opening Financial Controller in October 2017 and subsequently transitioned to the role of Hotel Manager in late 2021.
When did you come onboard at The RuMa Hotel and Residences?
I joined The RuMa Hotel and Residences during the pre-opening phase on 16 October 2017.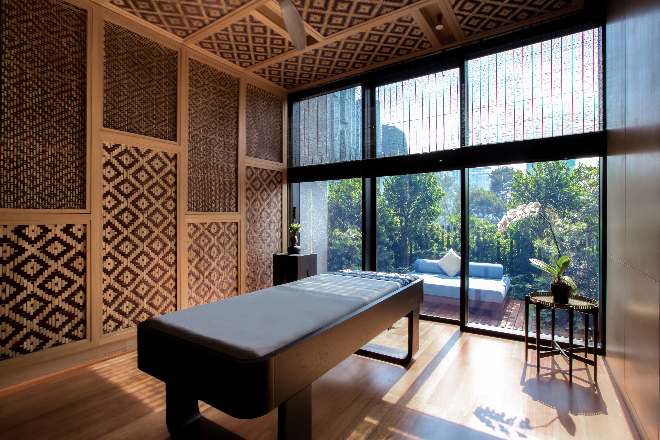 What do you think is the DNA of The RuMa and how does The RuMa differentiate itself from other high-end hotels in Kuala Lumpur?
The DNA of The RuMa Hotel and Residences is deeply rooted in its design and concept. The RuMa is designed to encapsulate the warmth and intimacy of a home, but with the sophistication of an accomplished host. It offers guests an opportunity to delve into the city's historical origins and colonial heritage while enjoying a contemporary and luxurious environment that embodies the tranquillity of a genuine Urban Resort. What truly sets The RuMa apart is the charming host and a guest experience that stands out as exceptional in the region. From the moment you step into The RuMa Hotel and Residences, you are enveloped in a world that revolves around you.
What do your guest love most at the RuMa? 
What guests at The RuMa Hotel and Residences value most is the hotel's interior design, which not only provides a unique sense of privacy but also fosters a welcoming "home away from home" atmosphere. The guest rooms, in particular, stand out as they offer a personalised and domestic character. Guests appreciate the thoughtful inclusion of local decorations and details such as the Kelarai weave, Batik plates, and fans in every room, which infuse each space with a distinctive local character. These elements allow guests to immerse themselves in the rich culture and heritage of Malaysia, creating a truly memorable and immersive experience. The inclusion of a complimentary minibar further enhances this sense of being at home, enabling guests to freely access refreshments from the fridge without any restrictions. Additionally, the soothing lighting throughout the hotel creates a relaxing ambiance that significantly elevates the overall guest experience, making their stay even more enjoyable.
Every detail in the hotel tells a story with an emphasis on reinvigorating local craft, culture and community — from a central showpiece by Datuk Seri Bernard Chandran to the kelarai hand-woven walls. Tell us more about Andy Hall, the famed interior architect who has greatly contributed to The RuMa Hotel and Residences' look and feel?
Andy Hall, the founding partner at MQ Studio in Shanghai, played a pivotal role in shaping The RuMa's unique aesthetic. His journey to Kuala Lumpur was driven by a desire to immerse himself in the city's culture.
Inspiration for The RuMa's design was drawn from various sources, including leisurely walks in the city, explorations of local flea markets, extensive online research, and engaging conversations with Malaysians. In Andy Hall's creative process, every piece of information and experience served as potential sources of inspiration, resulting in a design that authentically embodies Kuala Lumpur's vibrant spirit.
On the fine dining side, the RuMa has invited Chef Mandy Goh to look over all things culinary. Can you tell us more about this Penang-born chef who already has impressive credentials? 
Born and raised in Penang, Chef Mandy Goh has become a rising star in the culinary world known for her innovative and progressive creations. She made history as part of the first all-female team to win the prestigious Bocuse d'Or Asia competition in 2009, when she was just 21 years of age.
Chef Mandy's passion for cooking and her commitment to the finest and freshest quality ingredients have helped her evolve seasonal menu presentations across The RuMa Hotel and Residences. She now takes on the role of Executive Chef of the property and its signature restaurant, ATAS, bringing more storytelling and experiential elements to the guest experience. Her imaginative style enriched by her love for discovering the alchemy between flavours and ingredients form the foundation of her philosophy on modern Euro-Asian cuisine.
Will the RuMa experience in Kuala Lumpur be reintroduced to other parts of Asia? What are the brand's expansion plans?
The expansion plans for The RuMa brand are under consideration by our corporate office, Urban Resort Concept (URC). They are exploring the possibility of extending the brand to prominent business and travel destinations, including Bangkok, Hong Kong, and Singapore. It's important to note that these plans are still in the conceptual stage, and there is no official confirmation regarding specific locations or timelines at this time.
Kuala Lumpur is changing fast. What are some of the challenges the city is facing in attracting more tourists from the SEA region and beyond?
Kuala Lumpur faces formidable competition from neighboring cities and countries, such as Singapore, Bangkok, and Bali. These destinations frequently present similar attractions and experiences, necessitating Kuala Lumpur's need to distinguish itself in the global tourism landscape. Additionally, one of the challenges lies in the frequency of flights, which can be less compared to other popular destinations, impacting the ease of travel to the city. Furthermore, Kuala Lumpur boasts a multitude of hotels, contributing to a highly competitive hospitality landscape within the city itself. These factors require strategic efforts in marketing, infrastructure development, and unique value proposition to maintain and increase tourist arrivals in Kuala Lumpur.
One of our most cherished secrets at The RuMa Hotel is the Black Mink Scent, a signature fragrance exclusive to our establishment. This enchanting scent is a blend of Pomegranate, sparkling Cassis, and sweet Cream, intricately intertwined with the alluring notes of Jasmine, Vanilla, Vetiver, Patchouli, and pure Musk.
This unique aroma has been carefully crafted to provide our guests with a sensorial journey that enhances their stay, leaving an indelible impression of luxury and sophistication. The Black Mink Scent is a hidden treasure waiting to be discovered, adding an extra layer of enchantment to your experience at The RuMa Hotel.
For more on The RuMa Hotel and Residences, click here.
For more on the latest in luxury hotels, click here.