The Tamil movie "Jailer," starring superstar Rajnikanth, is currently running successfully in theaters around the world. According to reports, it is a blockbuster movie and has earned over 600 crores worldwide. As part of the success celebration, the movie's producer, Kalanithi Maran, who is also the producer and director of Sun Group, has been offering gifts to the cast and crew who worked on the movie. Music played a crucial role in this movie, and this time, the producer decided to gift a brand new Porsche Cayenne SUV to the music director, Anirudh Ravichander.
The video has been shared by Sun TV on their YouTube channel. In this video, we see three SUVs—a BMW X3, a BMW iX, and a Porsche Cayenne—parked inside a private building compound. Kalanithi Maran and Anirudh Ravichander can be seen walking towards the cars that were on display. The movie producer had put these three cars on display so that Anirudh could choose any one of them from the options. While we have seen movie producers gifting cars and bikes to directors and crew members, this is probably the first time we have seen a producer give a choice to the recipient.
Anirudh was quite happy to see a variety of expensive cars in front of him. He checked out all three cars and finalized the Porsche Cayenne. The exact reason why he chose Porsche over BMW is not known. After Anirudh chose his ride, Kalanithi Maran congratulated him on his new ride and then handed him the keys to his new vehicle. Kalanithi Maran also gave him a cheque for the brilliant work he has done in the movie. The exact amount on the cheque is not known. According to reports, this is a profit-sharing cheque for the movie "Jailer," and even superstar Rajnikanth has received one.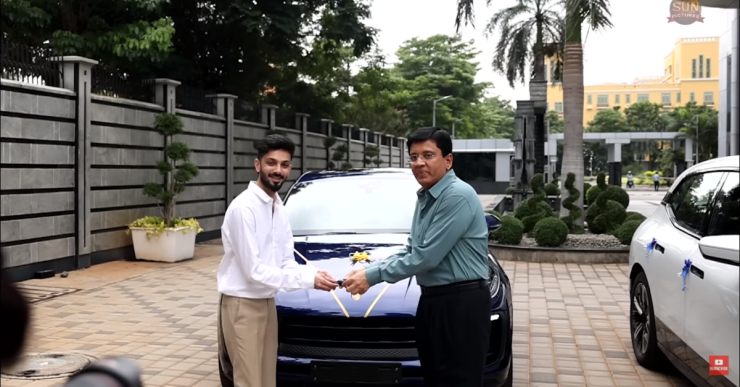 In addition to Anirudh, Kalanithi Maran also gifted a brand new BMW X7 luxury SUV to superstar Rajnikanth. He was also given a choice between the BMW i7 EV and the X7. The actor opted for the X7 SUV. Returning to this video, the car that Anirudh chose is a Porsche Cayenne luxury SUV. The Porsche Cayenne has been a popular SUV among celebrities around the world. Porsche was one of the first sports car manufacturers to introduce an SUV in the market. The Cayenne was available in the market even before SUVs became a trend.
The Porsche Cayenne comes with all modern features such as leather upholstery, multi-zone climate control, electrically adjustable seats, a touchscreen infotainment system, a fully-digital instrument cluster, and more. The cabin is finished in black and tan shades. It is an extremely powerful SUV, powered by a 3.0-liter V6 turbocharged petrol engine that generates 348 Bhp and 500 Nm of peak torque. It is mated to an 8-speed automatic transmission. The ex-showroom cost of a brand new Porsche Cayenne is Rs 1.36 crore. In addition to the newly added Porsche Cayenne, Anirudh has a good collection of cars, including a Ford Mustang in his garage.