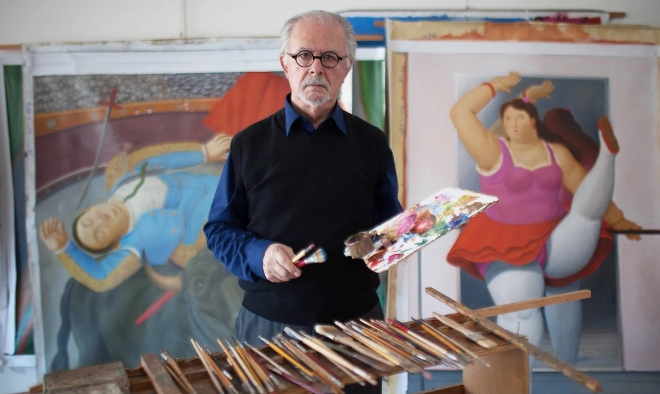 Beloved Colombian painter and sculptor Fernando Botero has passed away at the age of 91. According to official statements from his daughter, Lina Botero, Botero had been working at his studio in Monaco regularly until earlier this month when he was admitted to a hospital for pneumonia. Botero was discharged to continue his recovery at home last week, though news of his passing came last Friday morning, 15 September. 
Colombian President Gustavo Petro confirmed the news in a sombre, imageless post on social media, praising Botero as "the painter of our traditions and our defects… our virtues… our violence and our peace". 
Love Letters and Political Critique Alike
Botero rose to international acclaim for his specific style of voluptuously yet uncannily plump and rotund depictions of bodies, often as satire and political critique. Of recent fame was his 2005 Abu Ghraib prison painting series fleshing out the torture of Iraqi inmates by US military personnel following the US invasion of Iraq and the beginning of the Iraq war in 2003. The Abu Ghraib prison series was initially boycotted by US museums for their explicit anti-US intervention message but eventually found its way to an exhibit at the University of California Berkeley which still houses some of the paintings from the series today, a testament to the strength of Botero's influence on the international art community at large. 
"I was moved by the hypocrisy of the situation," Botero was reported sharing. "A country that presents itself to the world as a model of compassion and as a defender of human rights, ended up torturing people in the same prison where Sadam Hussein tortured people."
Botero's other works include colourful, almost pastoral depictions of his childhood in Medellín, Colombia's second largest city. It was perhaps in Medillín where his penchant for risky satire was nurtured, Botero himself having grown up through the city's earlier struggles for infrastructure development and political stability in the middle of the 20th century. His paintings and sculptures can be found all over the globe today, instantly recognisable for their inflated curves and traversing socio-cultural milieu as emblems of Colombia to the world.
An Artist's Legacy
Botero eventually left for Madrid to study at the Royal Academy of Fine Arts of San Fernando where he spent his formative years as a young painter. Botero was a travelling artist, spending years in Europe, Mexico, New York and even a professorship in Bogotá at the School of Arts of the National University in the 1950s. Botero was known to paint daily from dawn to dusk in silence, intensely focused on his work throughout his life.
He is survived by thousands of paintings and hundreds of sculptures which he often donated to galleries and public spaces, as well as three children from his first marriage. Regarding his final days, Botero's daughter, Lina, shares that Botero was already too weak to complete oil paintings, but opted for water paintings in his determination to keep on working.
Mayor of Medellín, Daniel Quintero, has since declared seven days of mourning to remember the famed son of the city, a voice of a generation past and advocates of social justice in Colombia and beyond. 
For more art and culture reads, click here.